In 2022, the four intersections around North Park were painted by local artists as a part of the Bloomberg Asphalt Art Initiative. These murals have lasted almost a whole year now and surprisingly with little damage. They do get dirty, but the Fire Department is kind enough to spray them clean for us. Although they have held up very well, we are looking to touch them up and bring back their original vibrancy.
On 22nd St and 7th Ave N is an abstract piece by local artist Jodi Lightner. Jodi earned her Master of Fine Arts from Wichita University and is currently an Associate Art Professor and
Art Department Chair at Montana State University Billings. All of her work is inspired by architecture, community connections, and experiences. She was the perfect candidate to contribute to the asphalt art which is designed to bring the community together and create a more welcoming space. Her mural in North Park reflects her typical art inspired by architecture with a strong geometric design completed with bright, complementary colors.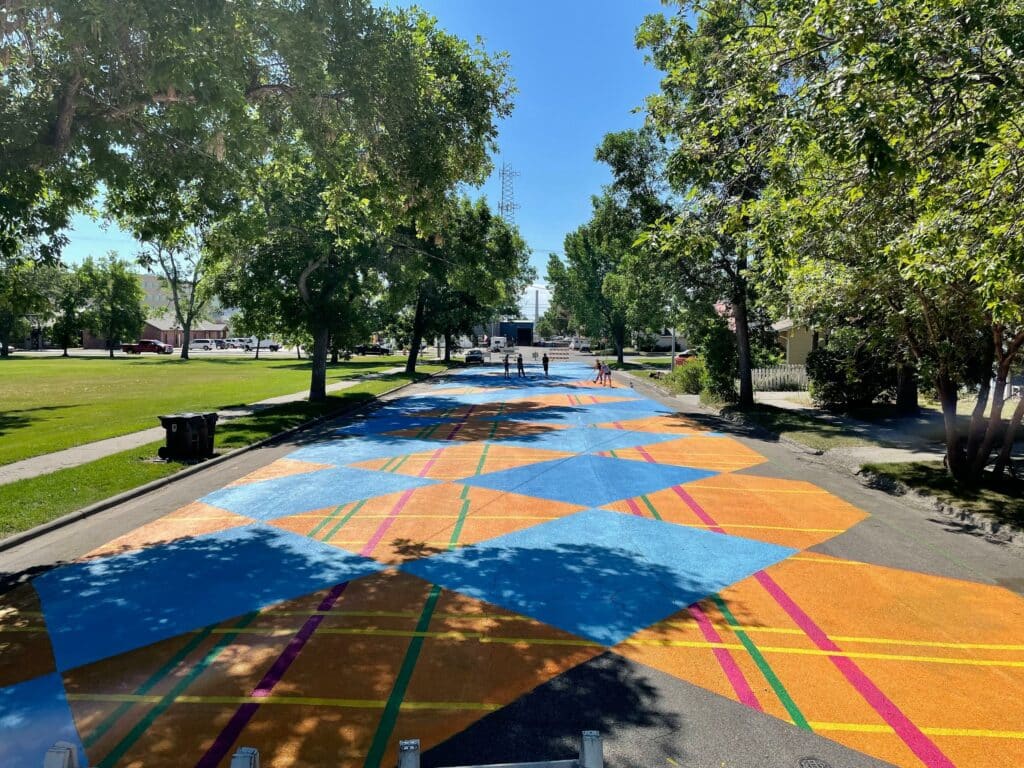 The mural on 19th St and 6th Ave N was done by Elly Swan. Elly will paint anything that inspires her, but her particular favorite things to paint include feathers, skulls, and fish. For her North Park Mural, she chose to go with fish. Her beautiful mural looks like three fish swimming in a river. The piece is bright with a wide array of colors that bring the entire spectrum of color to the road. Her mural has such great movement with the fish and their surroundings, it feels like you're swimming with them in the Yellowstone as you drive over it.
The curb extensions at the intersections on 8th Ave N and 22nd St and 8th Ave N and 19th St are designed by Elyssa Leininger. Elyssa graduated from Rocky Mountain College in 2017 with degrees in Art and Biology. She even spent a semester abroad in Italy where she studied the art and language there. She has always tried to use her art to make a difference. Now, she is making a difference in her community with her western and wildlife art. She has completed many murals around Billings and even some traffic light boxes around town. For the North Park murals, she painted different wildlife common in Montana. Walking buffalo, flying eagles, and grazing deer are some of the subjects of her artfully detailed curb extensions in North Park.
These murals cover 31,000 square feet of asphalt and took nearly two weeks to complete last year, along with a multitude of volunteers and community partners. We are asking the public to help us make these murals as vibrant as the day they were finished. We will be painting for just one Saturday either late June or early July. The date will be decided once we get a better idea of the weather.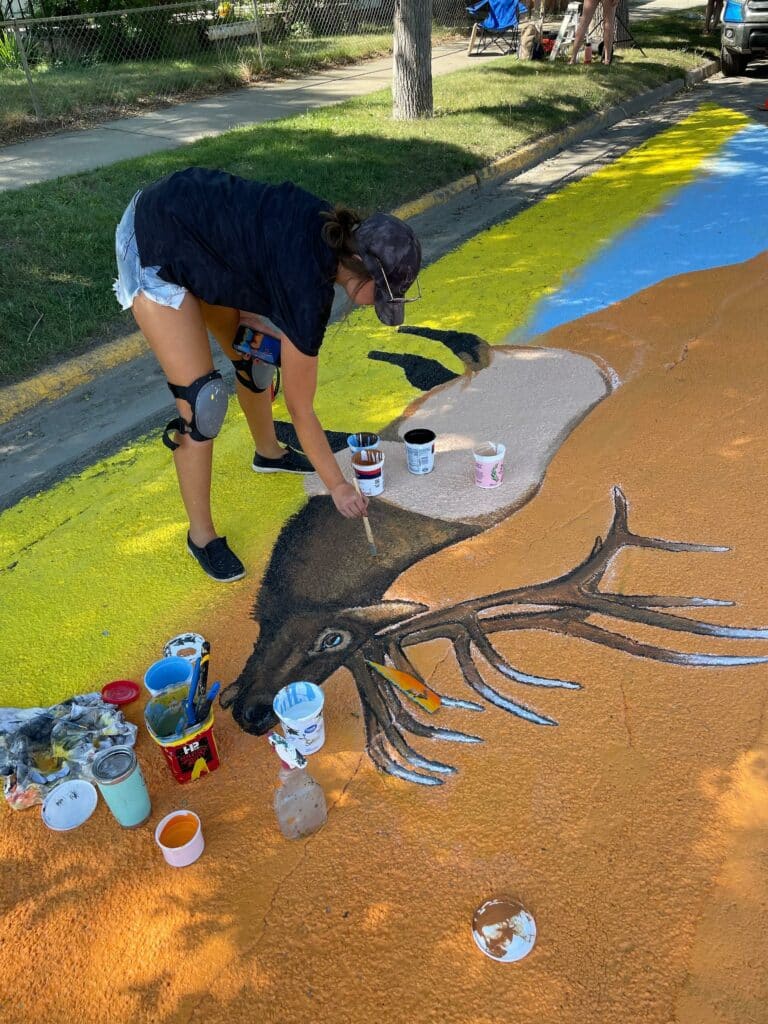 We will be starting at 9 am and work until 4pm. Lunch will be provided as well as donuts and coffee in the morning before instructions. Come join us for a day of painting, fun, free food, and hopefully some sunshine! If you would like to help us, just send us an email at billingsbirdmktg@gmail.com and we will notify you once a date is decided on. See you then!
Check out these amazing artists here!